The Printing Industry Exchange defines color sequence, also called print order or rotation, as the order in which inks are printed. This multi-color print sequence seems simple enough, but how it is determined is a little more complicated. A variety of factors dictate the order in which the colors of a multi-color job should be printed.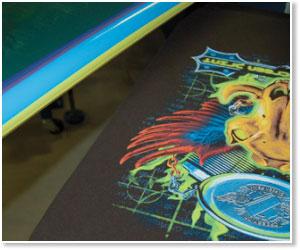 The final print is tremendously affected by the order in which we print the colors. And, because we typically print wet-on-wet, color order adds to the complexity of any final image. Additionally, print order effects ink buildup, and dot gain and loss in halftone work.
Through experience, print order results become easier to predict—important elements are sometimes printed last, for example. But there are no hard and fast rules. Keep an open mind, go against traditional methods, even, for potentially fabulous results. However, there are some historical guidelines that can provide predictable results.
Crunching the numbers
There are multiple approaches that increase the number of colors, such as overlapping transparent or semi-opaque inks, but this effectively creates additional colors.
Using transparent inks on a colored shirt will also create new colors. Ink opacity and alterations in print sequence will alter the result, so it is only through testing that we can ultimately predict results.
The number of possible printed colors is ultimately limited by the number of heads on press, less those dedicated to flash and or cooling stations. If there are more colors in an image than can print, we have to eliminate or create ways to compensate.
Pre-press
Once a piece of equipment is setup, either automatic or manual, it looks as if the machine or the printer is doing all the work. But, as we know, there is much more involved in setting up a production job than meets the eye. It all starts with the image, color separations and determining that print order—not to mention, screen making, color matching and registration. We call this pre-press. Pre-press can make or break production.
For spot-color or vector-type work, the separations should be built butt-to-butt with no traps or overlapping. Next, when setting up on the press, it is important to experiment with the color order to achieve best results.
Dark garments
Printing on dark garments creates even more challenges. It may work best to start by printing the under base color, followed by darker colors to light colors, finishing with a white highlight. But laying down that under base often means we are then printing on an ice skating rink. So it is often the case that the first under-base color is printed, flashed and allowed to cool before the next colors are printed on top.
Sometimes we might even print the black or other colors that won't print on top of the under base white first in the print order to keep those colors very soft with matte finish. It is possible only to flash once at the beginning and then all the colors can be printed wet-on-wet on top of the under base color.
When printing wet-on-wet, the colors are picked up on the backs of the screens. Though increased tension minimizes this, we can also increase the lighter ink colors' impact by printing toward the end of the print order or color sequence.
Four-color process
The typical print order for four-color process on white or light garments might be white, yellow, magenta, cyan and black, followed by any touch plates (usually logos or type solutions requiring a specific color match). This is not a law, but just a starting point.
Yellow is the brightest color of the spectrum, but also the worst color for contrast, so it holds up well against the other colors. Of course, yellow is also hard to see on white. For this reason, a highlight white is sometimes used (even on white) to help pastel-out some of the quarter tones and highlight areas and help the transparent process colors so they don't gain as much. (A little trivia: this was developed as a litho-printing method years ago to combat newsprint substrate gain.)
This method is also useful when printing pastel shirts. Touch plates or spot printers are sometimes used in addition to the four process colors to enhance parts of the image that don´t reproduce well or are out of gamut. Print the touch plates next to the closet process color—red to magenta; royal to cyan, for examples. Sometimes, we even have had good results changing up the print order to enhance dominant colors in a design. This is a technique mastered only through experience.
For simulated process color work, especially on dark garments, a pre-determined color order is usually recommended via the color set in the separation software used. There are some color separation software programs that build the separation based on a preset color order to make the design print best, but trust your printer's instincts.
SFX prints
Novelty, textured and many special effects inks such as puff, metallics, glitter, gels and high-density are usually printed last or right before a flash. Because of the dimensional and larger-than-usual ink deposit, we usually don't step on them with subsequent screens wet-on-wet.
Unfortunately, we can't print every color last when printing with multiple specialty inks. So it is sometimes necessary to get creative with print orders and utilize multiple flashes.
Flash perfection
In a perfect world, all images could be engineered to be printed wet-on-wet; this is more likely when separations are to be printed on light-colored garments. But in the case of printing on dark garments and the advent of the specialty applications, it is next-to-impossible to get the desired results without flashing in strategic locations.
Part one
Print sequence is only one part of a whole lot of parameters in the process; many of which are variables that must be controlled to achieve accurate and repeatable results, especially in halftone work or extraordinary applications. The key is to know how to repeat from job to job. The order in which colors are printed has a substantial influence and each sequence requires its own compensations.
---

About the Author
Industry consultant Lon Winters is president of Print This, Inc. and Graphic Elephants, LLC. During more than twenty years in screen printing, he has won more than 40 international industry awards. Those include SGIA Golden Image Awards, Printwear Awards, Impressions Awards, and FESPA Honors. He is an honorary Golden Image judge; has published numerous articles and monthly columns; and leads seminars and workshops for a wide array of industry professionals.
Since the day he began his career by reclaiming screens, Lon has been involved in virtually every aspect of screen printing and embroidery. After managing operations large and small, Lon launched businesses dedicated to training, and consulting.
Print This
conducts popular seminars and workshops around the world for manufacturers, vendors, and garment decorators.
Graphic Elephants
is a screen print and embroidery design and development studio specializing in new techniques for clients with high-end work and short lead times.
Located in Elizabeth, Colorado, Lon can be reached by phone at 303-910-0477 and by email at
lon@graphicelephants.com
. His website is
www.GraphicElephants.com.
---