Most manual-press purchases fall into one of three categories:
The replacement for an aging manual press
The addition of second (or third—or more) manual press
The cornerstone of a new screen printing operation
And while those new to screen printing have the most to learn, we'll cover a number of principles that far too many experienced screen printers fail to consider.
GENERAL CONSIDERATIONS
As with any major purchase, your manual press purchase should be viewed with an eye to the future. Any savvy buyer will want a press that operates flawlessly, produces high-quality images, and lasts for years if not for decades. And that may be enough if you're just starting out and have no ambitions beyond that single manual. However, most budding entrepreneurs hope to grow the business, so it pays to consider the implications of an automatic press when looking for that first manual.
The best manual screen printing presses are rugged, durable, machined to precise tolerances, easy to use, and easy to integrate with other equipment. If the arms or legs deflect when you lean into the press—or if the joints on the press aren't designed to support hundreds of thousands of impressions—it's safe to assume that the machine will serve you poorly. Image quality will be less than optimal and longevity will be short. And, if it comes time to replace the press, resale value will be minimal.
Rugged, durable construction means thick, rigid steel instead of sheet metal—and welding or bolting instead of riveting. A weld is the strongest permanent joint to be found in screen printing presses, manual or automatic, and bolts are by far the best way to connect non-permanent steel joints. Sheet metal and rivets are simply not equipped to stand up to the pounding a manual press takes over years of service. Bolts can be tightened or replaced, but when rivets loosen or tear out, you've got a major problem.
Many makers of quality screen printing equipment welcome visitors, so if you have the opportunity to tour the factories of the presses you're considering, make every reasonable effort to do so. Not only will you see how your press will be manufactured, you'll likely find a wealth of other information, too. And you'll be better able to judge the quality of work by how the operation is run. Things to look for are cleanliness, organization, robotic fabricating and welding machines (which deliver the tightest tolerances)—and how friendly and helpful the employees are.
While a factory visit may seem like overkill for the amount of money you're planning to spend, it's still a major purchase for most people, and a factory visit will go a long way toward deciding which company or companies you want to do business with, not just with your immediate purchase—but for the long run. Even if you don't have the time or funds to make factory visits, just finding out where you'd be welcome can tell you a lot about the company.
It should go without saying that you'll have the greatest success and fewest problems if you stick with a manual press from an established company with a reputation for customer service and quality products. If you can get most of your equipment from one company, you'll usually eliminate compatibility issues, and you'll benefit by getting nearly all your service and support at one place.
M&R MANUAL PRESSES
M&R is home to three exceptional manual presses: Kruzer, Sidewinder, and Chameleon.

Kruzer™ is M&R's most affordable entry-level manual screen printing press. Built with M&R's rugged construction and innovative design, Kruzer includes numerous proven design features, including tapered-roller-bearing-supported upper and lower carousels, a precise micro-registration system, machined center shaft, and three-point pallet leveling system. Click here to learn more about Kruzer.
M&R's popular Sidewinder™ manual screen printing press is available at an exceptionally affordable price. Built with M&R's rugged construction and innovative design, Sidewinder sets a new standard for mid-level manual screen printing presses. It includes numerous proven design features, including multiple-bearing upper and lower carousel plates, precise micro-registration system, machined center shaft, and three-point pallet leveling system. Click here to learn more about Sidewinder.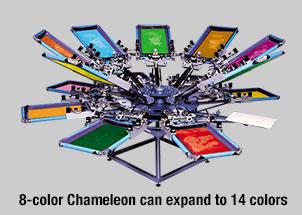 With its revolutionary two-tier design, unrivaled expandability, and rugged construction, Chameleon® is without question the world's best manual screen printing press for sampling and production. M&R's System Integration design allows Chameleon to integrate seamlessly with M&R's Tri-Loc Registration System and all M&R automatic screen printing presses to create the most phenomenal registration/sampling/production system available. Four and six-color manual presses can expand to ten colors and eight-color manual presses can expand to fourteen colors, all without expanding the footprint. Click here to learn more about Chameleon.
FEATURES & CAPABILITIES
When it comes to features, capability and functionality, it's easy to think of manual presses as commodities (one is pretty much like any other), but there can, in fact, be major differences, even among presses that compete head to head on price. Here are some things to look for on a manual press:
The ability to use different size pallets
The ability to use pallets interchangeably with automatic presses
The capacity to independently level each pallet on the press
The capacity to handle screen frames large enough to use on automatic presses
The availability of adjustable side clamps
All-heads-down functionality
Micro-registration
Off contact
Spring assist
Optional pneumatic clamps
Tool-free adjustments
Compatibility with pre-registration systems
The ability to use different sizes and types of pallets and screen frames—especially ones that can be used interchangeably with automatic presses—is crucial for anyone hoping to get the most out of a manual press. Not only do they allow shops to take on a greater variety of orders, they lay the groundwork for a future transition to automatic screen printing. If you're limited to small pallets and screen frames, you'll have to budget for new, larger ones when you purchase an automatic. And you won't be able to use your manual to refine sample prints for production runs on your automatic.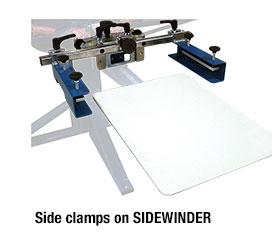 The ability to use your manual press for production and sampling will be enhanced by adjustable side clamps, which simplify roller frame use and accommodate a wide range of screen sizes.
The all-heads-down feature provides the opportunity to increase productivity by giving users the option of lowering all the screens onto pallets at once. That allows more than one person to print at the same time.
Microregistration makes it easy to fine tune the position of the screen frame so that images are in proper alignment from screen to screen. Precise registration is crucial when printing four-color process designs—or any designs with exacting butt registration.
Substrates vary in thickness and composition, and off contact allows operators to adjust the amount of separation between the screen and the substrate. And since most manual presses rely on hinged-type head mechanisms, a true (two-axis) off-contact system is the most desirable.
Manual screen printing is tedious and physically demanding (one of the reasons operators are elated the day an automatic press arrives), so finely-balanced springs on each screen holder are essential to minimizing the effort required to raise and lower screens. The reduction of unnecessary physical effort is also why a precisely machined center shaft with high quality roller bearings is so important. The energy required to spin the print heads and pallet arms should be minimal.
If available at all, pneumatic screen clamps are usually optional. But they're one more way to simplify setup and achieve better results. Tool-free adjustments eliminate the need to reach for a wrench or screwdriver—or track one down—when minor adjustments need to be made, and changes are generally done faster and more precisely with tool-free adjustments.
Although they're not part of the press, preregistration systems can be a huge time saver for operators of manual presses, just as they are for automatic-press operators. During the imaging process, preregistration systems allow operators to align each screen to all the others on a multi-color print job. And if screens are preregistered before exposure, it's a snap to register them correctly on the press. Any time that's spent unnecessarily on setting up a job on the press is time taken away from production, and production is what makes or breaks any operation. It can also be a plus if the maker of your press also makes a preregistration system.
M&R QUALITY & DESIGN EXCELLENCE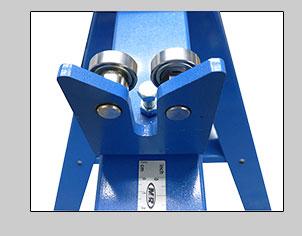 When shopping for anything new—including a manual press—it's easy to be blinded by shiny paint and vague promises—and it's just as easy to overlook hidden flaws, especially if you're not sure what to look for. After all, presses are presses, right?
Well, actually, no, they aren't.
Take registration, for example. Pinpoint registration is critical to quality output—and quality output is critical to commercial success. In order to maintain registration, you need a system made of precisely-machined structural steel and premium components. And that's what you'll find on every M&R manual press.
Other companies rely on extruded metals, tubular steel, and cheap plastic components that can't stand up to years of constant production the way an M&R's manual can.
And cheap components can cause problems in productivity, too. Some pallet arms are made of thin folded sheet metal. Not only does that make the pallet arms weaker, it makes them larger, and larger pallet arms make it harder to load shirts on the press.
So, the next time you're looking for a manual press, look closely and you'll see why M&R manuals are superior to all others.
COLOR CAPACITY
A manual press with greater color capacity enables a shop to take on a greater variety of jobs. However, adding more colors can add to the price and to the amount of space required for the press. That's why it's important to draw up a business plan and honestly assess the type and amount of business you expect to generate in the short-to-middle-term. It's hard to know which is worse: buying a six-color press and never getting a six-color job—or buying a four-color press and having to turn away any job that requires more than four colors.
You also need to make sure you have adequate room for your press. It's not enough that it fits into a space; there needs to be room to walk around it—and to set up a flash cure at any station. You also need to consider other equipment that needs to share the space. Free layout software for screen printing operations like that offered by The M&R Companies (http://www.mrprint.com/layout) can make it easy to create various floor plans before deciding what equipment to purchase.
However, if there's money in the budget and space on the floor, opt for a six-color press. If money or space is in short supply, go with a four-color press.
MAINTENANCE & REPAIR
A quality manual press from a reputable manufacturer should last for decades as long as you follow the preventive maintenance procedures detailed in the user manual. However, some parts are more subject to wear and tear than others. Over time, the springs and/or struts which assist lifting and lowering the printheads will become fatigued and will eventually break. This is inherent—and inevitable—with any metal under stress, so extra springs should be kept on hand as replacements. And should your press ever need adjustment or repair, it's helpful if the manufacturer excels in customer service and has field technicians readily available.
RESEARCH & DECISION-MAKING
Now that you have a list of things to look for, how do you go about the actually selecting a press? The answer is simple: research.
If you know any screen printers, start there. Screen printers may experience shortages of ink or blanks, but opinions are always available in abundance. And if you don't know any screen printers, look some up. While there are always outliers, most screen printers would be willing to tell you about their manual presses. And if you can't find anyone in your immediate area willing to speak to you, check screen printers in neighboring towns and cities.

Just be respectful of their time. Screen printers tend to work hard all the time, often late into the night and on weekends, and any time they spend with you is time that has to come from somewhere else. So, have your questions ready ahead of time and make the most of the opportunity. Quality questions include:

What do you like about your manual press?
What do you dislike about your press?
Have you had any positive or negative experiences with the manufacturer or its representatives?
Do you have any other equipment made by the same company?
Would you buy this press (or one like it) again?
Are there any other manual presses you think highly of?
How many colors do you suggest starting out with?
Which features do you consider essential?
Which features do you consider nice to have—or unnecessary?

Visit online websites like T-Shirt Forums and The Shirt Board to see what other screen printers are saying. Just be sure you maintain a certain level of skepticism. The internet is full of helpful information, but it's also full of information that isn't. Generally speaking, though, the more you read on a reputable forum, the more likely you are to develop a clearer picture of the manual press marketplace.

Visit manufacturer websites and familiarize yourself with details on their manual presses. Speak to their sales representatives or dealers—or to suppliers of screen printing equipment. As mentioned above, arrange factory visits if possible.

Attend tradeshows. Short of visiting manufacturing facilities, this is the best way to see screen printing equipment in operation. There are shows throughout the year and all over the country, so find out what companies will be showing manual presses, and make a visit. One of the advantages of the larger trade shows is that many manufacturers will be there. That makes it easy for you to go from booth to booth looking at and asking about manual presses. Importantly, trade shows make it easy to go back and forth between manufacturers, comparing build quality, features, and price. If the manual press is set up with screens and ink, ask if you can spend a few minutes operating it.
FINAL THOUGHTS
This may seem like a lot of effort to go to just to buy a manual press. However, if you're just starting out, your first step may go a long way in determining which path you go down. You can spend a lot of time researching a press—and much more if you visit factories and trade shows—but that time is nothing compared with the two thousand hours or more you'll spend with that press—in the first year alone.
So, take your time, do your research, and buy the best manual press you can afford. You won't be sorry.
---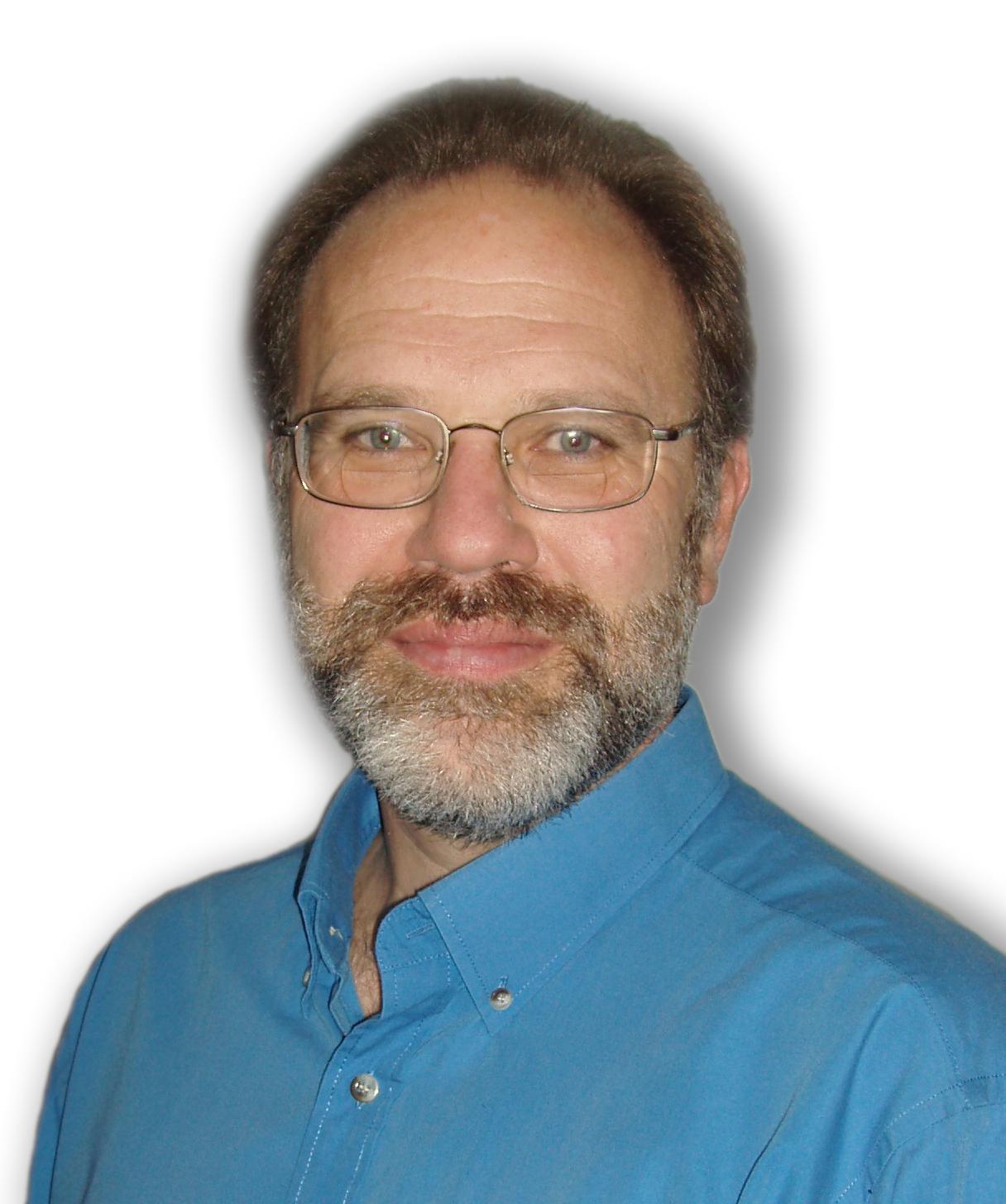 About the Author
Glen Carliss
Manager of Domestic Sales/Eastern Division
The M&R Companies
Toll-Free: 800 736 6431
Office: +1 508 457 9323
Mobile: +1 630 258 1194
glen.carliss@mrprint.com
---