Busy, busy, busy. What with running production, exhibiting and teaching at The NBM Shows, writing for Printwear magazine and the travel associated with the consulting arm of our business, you might think there is just no time for relaxation. Not so fast, friends. As the saying goes; all work and no play….
We have been accused of any number of things, but dull is not one of them. We certainly do work hard, but we also play hard. Extremely hard. You know we like wind in our hair and the whole horsepower thing. So what do hard working, screen printing, horsepower junkies do for fun? While we certainly appreciate two- or four-wheelin' as the case may be, boats are as much fun, or more. Floating horsepower. While we tune up the Wet Vette, our Mastercraft X-Star with a 375 horse Corvette LT-1 motor, a few of our friends get the jet skis ready to float as well.
After weeks of preparation, several families were ready for a road trip. Once a year, most years anyway, we pack it up and head across I-70 into Utah. After an eight- to 10-hour drive we arrive at one of the most beautiful places on earth—Lake Powell, a watersports Disney Land with nearly 2,000 miles of shoreline for a week of fun in the sun and relaxation on a houseboat. Each morning, just before a wake board run, the biggest decision of the day would bloody mary or screw driver (virgin of course). Sounds like quite an event, doesn't it?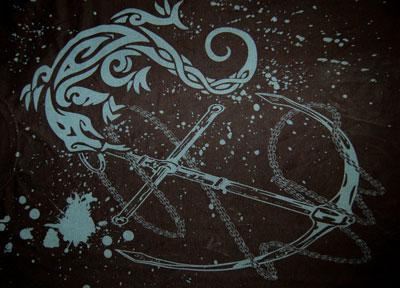 Well, since we are in the business, what says event better than an event T-shirt? Gotta have that! This year, we had a pile of high school kids with us, so we would need a hip shirt to commemorate the trip as it's been every year since 1993, our first year at Powell. It's tradition. We let the kids pick the shirt color—which had to be black, 'cause kids love black. Nothing like wearing black in 105 degree sunshine! Oh well, it was what they wanted. Working on black, though more difficult than white or light colors, is our favorite colored substrate. Seems like everything looks great on black—great contrast and pop to most images. So what was a hot look the kids would like? An all-over with a foil treatment should work for this group; seems to be working everywhere else.
We just love working for ourselves! Projects like this are great. While expectations are certainly high, we get to make all the decisions. No customers bossin' us around. Gotta love that. We had to pick subject matter first. Boats, water, fish, fun in the sun... how about lizards? Those little suckers are crawling all over the beautiful red rocks of the cliffs that make up the canyons of Lake Powell. Anchors work great as representation of boats and of course water splatters would tie the background all together and fill the shirt.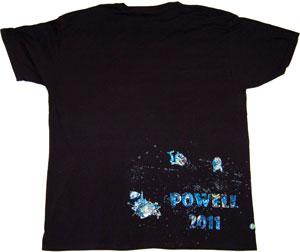 We searched our shapes archives and Googled lizards for reference, which didn't take long. We found a tribal looking lizard that would work for our purposes and ran a live trace on him in Illustrator. The anchor was a stock design from one of our clipart packages and already a vector shape. We put it all together on an art board using a shirt-shaped template, stretched and bent it all until we had a nice composition that maximized our canvas.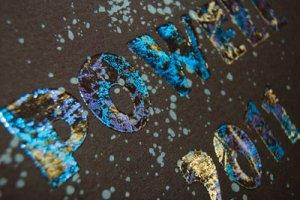 Once we had the layout complete, one thing we noticed is that the intersection of all the shapes made it hard to make out what was going on and what was what. To overcome the confusion, we added a full stroke around all the objects in front to break them apart from our background. We would use some of the splatters to wrap around the side onto the back on an additional setup and overlap the front print. We then set some type and added a few large water droplets on a second plate for the location that would take the foil treatment we had planned.
We had to tile our inkjet film together to get the all-over size we wanted. We built one oversized 36" X 36" frame using the long sides of two 23" X 36" retensionable frames and stretched some N300 mesh to 35 N/cm2. We exposed and developed our OS film on it and set up one large platen with 18" neoprene to absorb the seams. We cut some white non-phthalate ink 85 percent with curable reducer. Along with the high mesh, this will give a faux water-based effect for the background and allow the black of the shirt to influence the ink, turning it gray and giving it a very soft hand.
Once marked for location, we laid the shirts on top of the platen and used a 65/90/65 triple-ply 30" dual durometer manual squeegee. The second location would go on the auto. The splatters would be handled the same way as the front. Same mesh, ink and squeegee. The type solution would be on a N102 with the same tension but with a 400 micron cap film for a phat ink deposit. The load was over the seam on the side and wrapped around to the back. We went with an HD clear because of its tacky finish. We would take advantage of the sticky ink with our foil treatment. We used blues and an oil slick foil to match our water theme.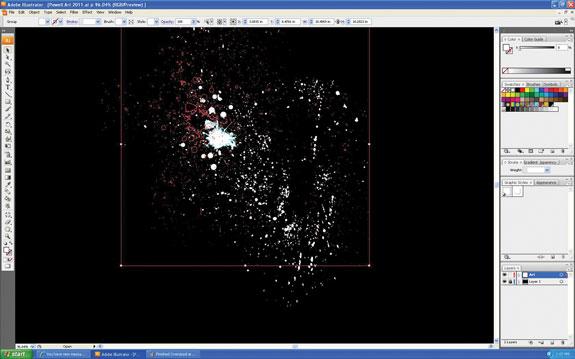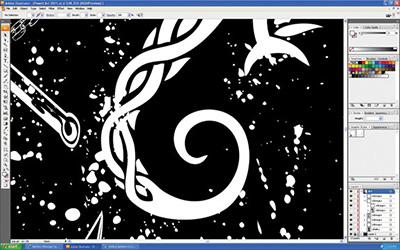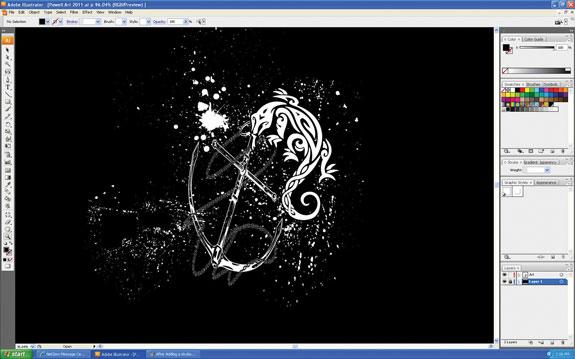 Since we were the client here, there were no changes necessary. The shirts looked perfect right out of the box. Of course, like any event shirt, we ran well into the night to complete the project and handed out hot shirts in the parking lot in the a.m. as we prepared for a much needed vacation.
---

About the Author
Industry consultant Lon Winters is president of Print This, Inc. and Graphic Elephants, LLC. During more than twenty years in screen printing, he has won more than 40 international industry awards. Those include SGIA Golden Image Awards, Printwear Awards, Impressions Awards, and FESPA Honors. He is an honorary Golden Image judge; has published numerous articles and monthly columns; and leads seminars and workshops for a wide array of industry professionals.
Since the day he began his career by reclaiming screens, Lon has been involved in virtually every aspect of screen printing and embroidery. After managing operations large and small, Lon launched businesses dedicated to training, and consulting.
Print This
conducts popular seminars and workshops around the world for manufacturers, vendors, and garment decorators.
Graphic Elephants
is a screen print and embroidery design and development studio specializing in new techniques for clients with high-end work and short lead times.
Located in Elizabeth, Colorado, Lon can be reached by phone at 303-910-0477 and by email at
lon@graphicelephants.com
. His website is
www.GraphicElephants.com.
---