As you may or may not know, we have a Christian clothing line we call Christian Edge Apparel (ChristianEdgeApparel.com). You may have noticed a number of the examples used here in the Software to Substrate column that are for outreach programs for churches, schools and other organizations. That is all part of the Christian Edge brand. Over the years many of our outreach customers and wholesalers have purchased a good number of our "Property of Jesus" Ts, a very basic play on the old athletic graphic on heather-colored garments. The graphic has become number two on the sales list.
Because of the success of that image and some prodding by our "fans" we decided to roll out a new play on an old favorite. We wanted to mix it up a bit with some careful thought. We sure didn't want to undermine our own sales and just trade for a new design, but instead create something similar but far enough away from the old standby that potential customers would want or need both garments.
What better describes the reinvention of an old graphic than distressing? Customers have continued to love the look over the years. But we couldn't do the same ol', same ol'. It had to be a bit different to be special. Special is who we are… special indeed. So distressed printing on garments—we've all been there/done that. In fact, it is probably the most requested technique we see from customers.
The whole idea behind this look is that old, washed out, vintage appearance that Abercrombie & Fitch has made famous for 20-plus years. Folks have been saying that the look will die soon for about that long, but it just does not go away. There are a number of methods to achieve the distressed technique, just as there is certainly always more than one way to do anything. This just happens to be how we did this project.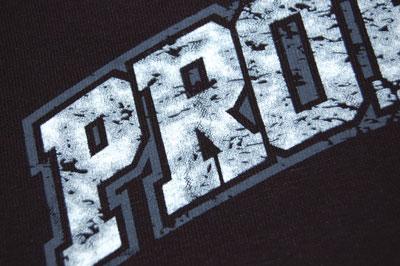 How we do it
There are numerous Photoshop plugins available from a number of manufacturers that provide several predetermined filters. Of course, being old school type of fellows, we like to do things the hard way. We began by simply setting our type and laying out our basic design in Illustrator. We chose an athletic type style and a basic shape and added a couple of outlines.
To build our distressed pattern, we opened a new document and filled a box with black. We printed it and beat it up a bit with some very 'secret' techniques like crumpling, folding and twisting. We scanned it back in at 200 dpi and enlarged it to cover our image.
With the image opened in Photoshop we are able to manipulate it a bit. We adjust the image further by using curves, brightness, contrast and even levels. The file was then inverted and saved as a bitmap image.
After, we created our text at 150 dpi in Illustrator and exported it to Photoshop as a .tiff, making sure the image to be distressed is in a single layer and in gray scale. Then we created a new layer and added a 50 percent fill. While layer two was selected, we applied our distressed filter with the fill color white by reopening it in Illustrator. We moved the filter around until it was into the perfect position and broke the image into two layers.
The top layer, which will be printed last, is a duplicate of the type at 100 percent, output through our distress filter. The bottom layer would be converted to a 50 percent halftone of the image, as is, and would be printed first. This plate fills in negative-space areas of the top layer we knocked out, and looks like ink residue. On still a third and fourth layer as duplicates, we deleted the outlines and some other detail areas. Each layer was duplicated and pasted in front of the other with varying stokes placed around each subsequent layer in white from one to six points. The transparency levels were changed on each to 50 and 75 percent, output as 35 line halftones for a very graphic look.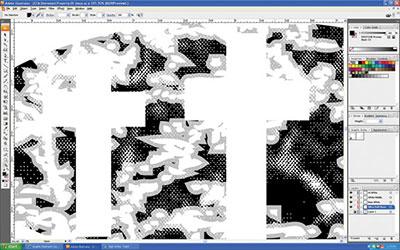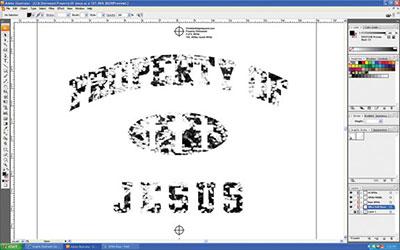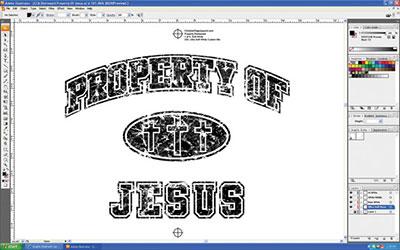 Print property
The bottom plate was exposed on 355-tpi mesh and printed using an ultra-reduced white ink and the next, on 230 with a more opaque version. All screens were stretched to 30 N/cm2. These two were printed in subsequent order with no flashing and very little off-contact for minimal ink deposit.
We flashed right in the middle and printed the next plates on 196s, wet-on-wet, at the same tension and off-contact distance. All inks were white with varying levels of curable reducer for differing opacity levels. In this case, we didn't want the white ink to be very opaque. As a bonus, the transparent nature of the stacked inks allowed the shirt to show through, so the image looked great on any color other than white and really took on a tone-on-tone appearance. It looked almost as if we changed colors on every shirt. On a retail rack, the presentation really merchandised well together.
There is probably no right or wrong way to print distressed images. The technique is very forgiving and can be accomplished at nearly any level. As with any process in our business, it requires some discipline and creativity to make it convincing to the customer. In the end, this Property of Jesus version is on pace to sell out the old classic.
---

About the Author
Industry consultant Lon Winters is president of Print This, Inc. and Graphic Elephants, LLC. During more than twenty years in screen printing, he has won more than 40 international industry awards. Those include SGIA Golden Image Awards, Printwear Awards, Impressions Awards, and FESPA Honors. He is an honorary Golden Image judge; has published numerous articles and monthly columns; and leads seminars and workshops for a wide array of industry professionals.
Since the day he began his career by reclaiming screens, Lon has been involved in virtually every aspect of screen printing and embroidery. After managing operations large and small, Lon launched businesses dedicated to training, and consulting.
Print This
conducts popular seminars and workshops around the world for manufacturers, vendors, and garment decorators.
Graphic Elephants
is a screen print and embroidery design and development studio specializing in new techniques for clients with high-end work and short lead times.
Located in Elizabeth, Colorado, Lon can be reached by phone at 303-910-0477 and by email at
lon@graphicelephants.com
. His website is
www.GraphicElephants.com.
---