Some years back, we helped an old friend at Athey Graphics set up an operation in a cute little resort town on a lake in Oklahoma. The area is called Monkey Island and sits on the shores of Grand Lake. (Now that's just fun to say' Monkey Island.)
We've made several trips to Athey Graphics and just returned from our latest. The company has come a long way from his first few vector images and the basics we taught them a while back. The owner, Mark Athey, a longtime friend and 25-year printing veteran, worked with me way back in the, at Ocean Pacific. To say' there is history there' is an understatement.
Much has changed since our last visit. Travis is now running the entire screen print division and maintaining most of the process controls. He and Mark did a bit of recruiting and recently hired Andre to add some art and design experience while heading up the wraps division of the company. A pro in traditional media, he brings digital expertise as well. His wrap experience gives the business the ability to work with small to massive canvas sizes.
So what is next for Athey Graphics? Take it to the next level. They want to be able to design, separate, handle pre-press and print well on black. So that' just what we would do on this trip' work on two images while on Monkey Island.
The two keepers
We designed a wrap in Photoshop for a local customer's van. The theme was smoke and fire. You know' flames. We love flames. For a reduced price, we were able to incorporate the company logo into the vehicle, careful to match the overall theme of the wrap. It was during this design phase that we coined the wraps division, Red Hot Wraps.
We were able to create a very interesting design to not only go on the wrap, but for signs and T-shirts. What better image to work with than this for our first black shirt project at Athey Graphics?
The second design began as a sketch of a fish. The largemouth bass is a species native to Grand Lake and the pencil drawing was originally done by Mark Athey in 1986. He drew it while attending the Colorado Institute of Art. We found it because Andre was inspired to revive some of the old archives when he first came on with the company.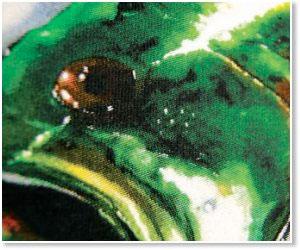 We scanned the thumbnail into Photoshop and then imported into Illustrator to convert each piece of the original to a vector file so we could blow up the image to the required template.
When we started the bass project, it was easiest to piece it in sections. The body was first, then the eye, mouth, fins, etc. This allows us to work with one section at a time, front to back. At times, we created more than 50 layers for each individual area we were working on to bring this sketch to life with full colorization.
This bass ended up with too many layers to count and we merged accordingly. Andre likes to work with so many layers because it gives him complete control and freedom on how he would paint the bass. He moves around certain layers behind and over some others to get a more interesting result than he would by stacking everything on top of each other.
Fish in the net
Both designs were put together on black backgrounds, which is helpful in visualizing the outcome of the final print. Once our images were complete in the design phase, it was time to go to separation. At individual times, both images were opened in new separation software installed earlier in the day. Bang! Like magic, our separations appeared at the bottom of the screen.
If we went to output at this stage, we would get pretty good results. But we didn't want pretty good' we wanted great. We were able to manipulate each separation to see what we could get on-press thanks to the software' viewable proof and that the plates were laid out as such in front of us. We merged away our gray and a couple other colors that we didn't need.
From here, we changed print order to emphasize the important areas of the images. We were able to compress the highlight white way back to keep the primary colors really vibrant and the whites really bright. We choked the white printer (under base) a bit too, so we wouldn't see any peeking out under the colors. We also spread the bright areas of that plate as well. After a RIP reinstallation, we printed our film using 45 lpi (lines per inch) halftone at a 22.5-degree angle. We hung the seps on carrier sheets for the pre-registration system and exposed the screens. The first-down white printers were on standard 156 tpi (threads per inch) followed by all the colors on 230s. Everything was stretched at 35 N/cm.
Setup on press for both images was pretty consistent and required little micro-adjustment when we used our registration fixture. We used the colors indicated by the software with one flash after the first white. The squeegees were all stock 70 durometer. We double-stroked each color to get the inks moving.
After a few prints, both images turned out very strong and consistent. Both were for promotional purposes, so we ran a few dozen of each. Just like that, with a little software and some process control, this proves that advanced printing is about doing the basics really well.
Related Products
---
---

About the Author
Industry consultant Lon Winters is president of Print This, Inc. and Graphic Elephants, LLC. During more than twenty years in screen printing, he has won more than 40 international industry awards. Those include SGIA Golden Image Awards, Printwear Awards, Impressions Awards, and FESPA Honors. He is an honorary Golden Image judge; has published numerous articles and monthly columns; and leads seminars and workshops for a wide array of industry professionals.
Since the day he began his career by reclaiming screens, Lon has been involved in virtually every aspect of screen printing and embroidery. After managing operations large and small, Lon launched businesses dedicated to training, and consulting.
Print This
conducts popular seminars and workshops around the world for manufacturers, vendors, and garment decorators.
Graphic Elephants
is a screen print and embroidery design and development studio specializing in new techniques for clients with high-end work and short lead times.
Located in Elizabeth, Colorado, Lon can be reached by phone at 303-910-0477 and by email at
lon@graphicelephants.com
. His website is
www.GraphicElephants.com.
---