With the eminent arrival of the spring also comes the outdoor spring sports season. Having a daughter who grew up playing in all seasons, we know that high school women's lacrosse began practice a few weeks ago. This was also made obvious by several of the teams and parents once again re-ordering gear to represent.
We have been working with several lacrosse teams over the years. This year, the Chaparral lacrosse team was interested in something new and a bit different than in years past. They wanted to step it up a bit.
They still need the basic T-shirts and shorts, but also wanted 100 percent polyester performance sweatshirts and pants that have been gaining momentum. Colors? Of course it would be the most production-difficult red and navy. It's always red, isn't it? We found ourselves gearing up to print on those shrinking, dye migrating, stretching, bleeding nightmare poly fleece garments. Sounds like fun doesn't it?
The positive: these garments are more expensive than the common cotton or blended styles, and thus allow us to create better margins. And, the rise in popularity in these fabrics over the last few years has forced us to learn a few tricks every time it finds its way to our presses. It still takes some commitment to get it right. Luckily, we have been working with several printers, ink manufacturers and sporting brands around the world in our consulting work and have several solutions in our back pocket.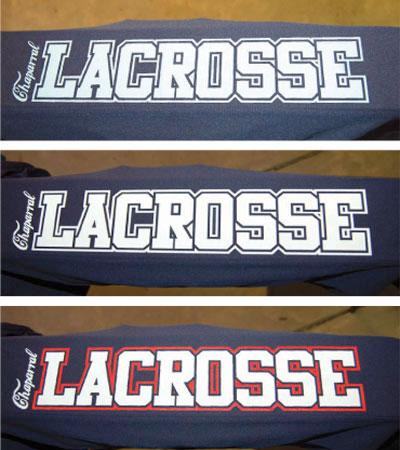 Game set
Opening a new document to our template in Illustrator, we started by using the type tool to setup the text for LACROSSE in the center of the template. Selecting the text allows you to go through available fonts to choose the best option. An athletic font is the obvious choice here, sized appropriately for the garment.
With the text still selected, we changed our font to outlines to work with it further. We reshaped it a bit, stretched it into place at about 14", then duplicated it and locked the original. Changing it to a spot color, we added the first outline and pasted it back in. After selecting the duplicate layer, we selected our type and changed the fill color to none and the outline to white.
Next, we selected our stroke menu and adjusted the weight to 8-pt, repeating this process and changing its stroke to 16-pt. This would give us the outline with negative space in between. We then added the smaller "Chaparral" type using the same methods earlier but in the customer-requested Coca-Cola font.
We rotated it 90 degrees and set it in front of the big L, sizing it to the same height. Since we built the entire design in spot colors and in Illustrator, it was already separated and ready for output. We built our white printer by building a composite of everything and applying a small stroke (or choke) around everything to compensate for any gain on press and to minimize any colors from peeking under.
Beating the polyester rival
Printing on poly/cotton blended fleece has taught us one trick in particular that comes in handy here: to use a lower-fusion, bleed-resistant poly white as our white printer. The lower cure temperature keeps the unstable polyester dyes from releasing at higher temps. And, of course, the bleed resistance is helpful. We would need every bit of that and then some for these 100 percent poly garments.
Also a plus, the ink companies recently developed what is called a "gray blocker." It essentially does what the first-down white does; only better—it is additionally designed to block dye migration. We use both in instances such as this project.
We exposed three identical N-102 tpi meshes stretched to 40 N/cm with 15 percent emulsion over mesh (EOM) using the white base film. The first screen was for the gray blocker, followed by a flash and a cool station. The second and third screens would print a poly white, also followed by a flash and cool. The final white fill areas and the colored outline printed last on 272s; red on navy and navy on red, respectively.
The numbers were fairly small and were to be positioned on the leg, so we ran the job on a manual press using sleeve platens. We used 65/95/65 triple ply dual durometer squeegees in all screens—the soft edge with the stiff backer kept the rubber from rolling over. We increased the off-contact considerably to accommodate for the thicker fleece.
The printing technique and the ideal surface of the fleece yielded a very smooth and clean final print quality. We were able to load up all eight platens and run the rotary for all the flashing necessary. We were able to minimize the heat put to the garments by just reaching a gel point on the ink—where it was just barely dry to the touch—during flashing.
The dryer had to be adjusted a bit as well to keep those dyes from releasing. (Standard plastisols need to reach 320°F to cure, while we only wanted to get to 300 for this ink manufacturer's recommendation.) Simple enough fix was to speed the belt up a bit. All in all, we were able to make the customer very happy. We know this because we have a reorder to print this week and sales were higher than ever.
---

About the Author
Industry consultant Lon Winters is president of Print This, Inc. and Graphic Elephants, LLC. During more than twenty years in screen printing, he has won more than 40 international industry awards. Those include SGIA Golden Image Awards, Printwear Awards, Impressions Awards, and FESPA Honors. He is an honorary Golden Image judge; has published numerous articles and monthly columns; and leads seminars and workshops for a wide array of industry professionals.
Since the day he began his career by reclaiming screens, Lon has been involved in virtually every aspect of screen printing and embroidery. After managing operations large and small, Lon launched businesses dedicated to training, and consulting.
Print This
conducts popular seminars and workshops around the world for manufacturers, vendors, and garment decorators.
Graphic Elephants
is a screen print and embroidery design and development studio specializing in new techniques for clients with high-end work and short lead times.
Located in Elizabeth, Colorado, Lon can be reached by phone at 303-910-0477 and by email at
lon@graphicelephants.com
. His website is
www.GraphicElephants.com.
---