As you may know, we work with a number of western wear companies and brands, which is probably not all that unusual seeing as though we are located here in the Colorado West. One such brand is Stetson. You might recognize the label from cowboy hats, boots and woven garments, among other items, especially if you are a cowboy or country boy (like me).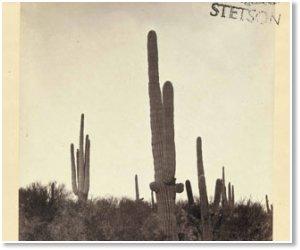 The brand has a long history of quality and high-end appeal. Aside from the pricier items, they offer T-shirts as well. Not promotional-grade traditional Ts, either, but garments with more fashion-driven styles, fabrics and cuts. The company has a design team for most of the products, but subs out to us for a portion of the T-shirt concepts, with direction, of course. We typically meet with the Stetson design team where we receive that direction in the form of photos, magazine clippings, websites and other references that convey the vision of the team.
As is the case the majority of the time, most of the images and techniques this season were very basic and simple. Design, development and sampling was pretty easy and quick. It took us a couple weeks to complete 10 men's and 10 women's products that released in fall of 2012. There was one garment, however, that was a little unusual for this line release, so thought we would share it with you here.
We received a notice via email that we had a large file from the client ready for download on our FTP site. Once up and opened in Photoshop, we knew we had a bit of a challenge on our agenda. The file looked to be a relatively low-resolution scan of an old poster that had been manipulated a bit and placed in a white T-shirt template. The client expressed the desire to use this image on a black women's cut garment we have used in the past and wanted a soft hand to the final print.
As you can see in the photos, the outer edges of the poster are colored cream and have significant coverage. We determined the best way to handle this would be a discharge and water-based application to achieve the coloring and hand the customer wanted.
We suggested we break up the edges a bit rather than printing a big box and the customer agreed. We used a canned edge treatment called old weave that made the imagery look a bit like an antique oriental rug. We had to expand the canvas a bit then reset and place some of the small type in a font similar to the original so we could still read it.
Using Paint, we removed the white box from around the original art. Using a brush tool, we painted out the type we removed. The Stetson folks liked the art template proof and direction we were taking, so we proceeded to optimization and separation.
OLD SCHOOL COOL
In Photoshop, using our sliders, we bumped the contrast a bit to get some hard blacks and introduce a bit more gray areas to make the black and white old school photo in the final product stand out. To keep costs down, we ran the final image through a standalone raster separation program. This gave us the information we needed to get the seps onto the plates so we could manipulate them for this application.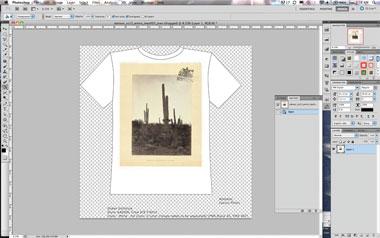 The image is mostly a gray scale and probably not exactly designed for this type of separation. But, we knew this would get us where we wanted to go the fastest way. We merged away everything we weren't going to use and created the black plate.
Even though we were printing on black, we would still need to print the black ink. In this case, it would serve to reintroduce the detail and shadow areas that the water-based discharge would impede on, since discharge gains (grows) a bit after printing. Next up: the gold plate, which we spread a bit and placed onto the white printer. This was going to act as our base plate but would also be for the discharge ink.
We printed a "clear" discharge that would blow the black dyes out of the fabric, leaving the original, natural color of the shirt's fibers. We hoped the natural color of the fibers would match the cream we were going for. (Sometimes, it is just better to be lucky than good.)
We only kept the gray plate for the mid-tones in addition to the discharge and black plates. The output was at 45 lpi (lines per inch), 22.5 degrees and elliptical shaped halftones. All the screens were hardened, water-resistant stencils to help resist any breakdown on press.
DISCHARGE MAGIC
In order for the discharge to remove the dyes from the fabric, the garment had to be comprised of natural fibers that are reactive. We found a similar garment to the one we'd print that had only 70 percent cotton, so we used this to test and to find out what color would result from the discharge ink. Lucky for us, it was close enough—we do have a little flexibility with the client.
The discharge clear was exposed on a standard 156 tpi (threads per inch) mesh while the gray and black went on 196s, all at 30 N/cm. After we activated the clear discharge, we set up a flash station directly following and several cool stations after it. The gray and black followed the cooling stations. The flash would only "skin" the wet ink. We didn't try and completely cure the ink; we just wanted to get it started, so to speak, so the gray and black would set on top.
Once the discharge was activated and the inks were in the screens, we knew the water-based clock was started. Not that water-based ink is harder to run than plastisol, it just behaves a bit differently. For example, activated discharge ink has a short pot life, so you don't want to leave inks in screens too terribly long and certainly not overnight. And, in general, water-based inks require a little more attention, so we got right to it.
After the registration and a few minor adjustments, we were close, but needed to change our "darker" gray for a bit lighter, more neutral color to keep the visual contrast in those mid-tone areas. Since the client is local, we were able to run the prototypes, strike offs and salesman samples all in one day. We generated a couple hundred pieces when all was said and done, as well as a satisfied customer.
---

About the Author
Industry consultant Lon Winters is president of Print This, Inc. and Graphic Elephants, LLC. During more than twenty years in screen printing, he has won more than 40 international industry awards. Those include SGIA Golden Image Awards, Printwear Awards, Impressions Awards, and FESPA Honors. He is an honorary Golden Image judge; has published numerous articles and monthly columns; and leads seminars and workshops for a wide array of industry professionals.
Since the day he began his career by reclaiming screens, Lon has been involved in virtually every aspect of screen printing and embroidery. After managing operations large and small, Lon launched businesses dedicated to training, and consulting.
Print This
conducts popular seminars and workshops around the world for manufacturers, vendors, and garment decorators.
Graphic Elephants
is a screen print and embroidery design and development studio specializing in new techniques for clients with high-end work and short lead times.
Located in Elizabeth, Colorado, Lon can be reached by phone at 303-910-0477 and by email at
lon@graphicelephants.com
. His website is
www.GraphicElephants.com.
---