One of our long-time clients is a very well-respected brand in the biking biz, as it were. We have been working with Primal Wear for well over a decade. They were the original folks with wild full-color graphics on polyester bike jerseys. While, so far, we have yet to dabble in the full garment sublimation game, these guys pretty much set the bar for this category years ago. Our position in the relationship has been to translate that wonderful art to T-shirts in a way that keeps the original's integrity yet is printable and cost-effective.
Most of the company's pre-print line has a full-color front and back accompanied with a side branding logo. Primal also sponsors a number of road and mountain biking events year after year, one of which is known as The Triple Bypass—a road biking event that covers way too many miles and, you guessed it, treks over three of our Rocky Mountain Range's highest peaks.
For many years we have printed a basic event-driven front on a couple thousand Ts for the participants and event staff. Every year we reconstruct what seems like a thousand full-color logos of the sponsors on the back. While sharing horror stories with industry colleagues at The NBM Show in Indy about this job, it occurred to us this time that we have a pretty good story to tell, as this kind of work is so common. We all complain about and can relate to it.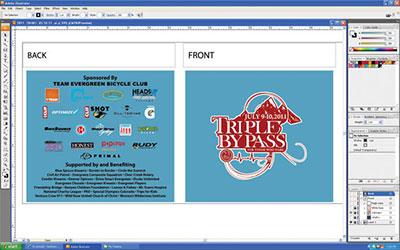 Sometimes you can't do much about original art provided by the client except rebuild it bigger, stronger, faster.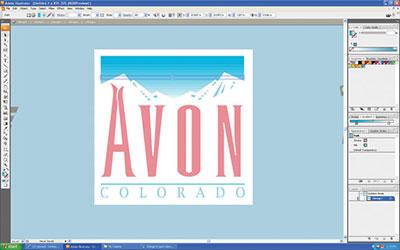 Making sure to have all the gradients for any selected shading was the tricky part of this project.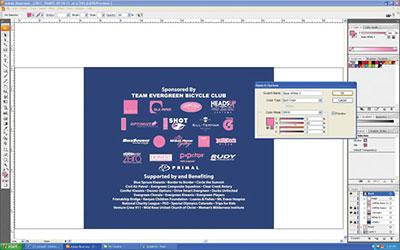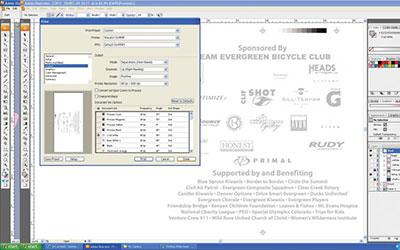 A white base plate and highlight white were needed for the blue shirt.
Primal printing pangs
While the files have improved considerably over the years, it is not easy tackling a job like this. So we put first things first. Sometimes you can't do much about the original art provided by the client. In this case, the file was sent as a PDF to size, which is exactly what we ask for from our customers. Good news right? Not so fast. As you know, a low res .gif from the Internet can be saved as a PDF. And, of course, some of the logos were vector and already in spot colors, while many were today's digital version of the bar napkin camera-ready art from years past. Those of you who have been doing this a while can certainly relate, we are sure. But… we can rebuild it bigger, stronger, faster. You get the picture. It's all we can do in cases like this.
We ran a trace on the "bad" logos in need of vector conversion, with minimal colors, going back in some cases and eliminating even more colors. While Primal pays for quality, they won't pay for an 18-color sponsor back, so we would need to use our heads on this one and try to keep colors down to a reasonable level. While we knew that red and blue make purple when printed on top of each other in varying halftone levels, it was more complicated than that. There were also monetary contribution levels of each sponsor to consider, as in, which sponsors paid more and expect their logo's colors to be accurate.
After all these years, the good folks at Primal leave the judgment to us, but that means we have to put considerable thought into these choices. After some careful decisions during tracing, we selected all our unused swatches and deleted them. The colors we would keep were identified with spot colors rather than the process colors initially indicated in the file. The tricky part was making sure we also had all the gradients selected for any shading. This selection process allows each plate (or color) to be output on individual films. A white base plate and highlight white were also necessary because the shirt color would be blue.
To create the highlight white, we selected the background and turned it a color that wasn't in any of the logos. We used a horrible green for those areas that were still left white to make it obvious what would be printed. A new layer was created for the base plate. We selected all the areas that would be white plus the colors that would need the base to make them pop. (For instance, yellow needs white under it while black does not.) From our experience with these types of projects, we knew that the white plate would be the composite of several colors.
Again, including any gradients was a little tricky. We added a slight choke to the overall white and, to minimize smearing, introduced some gutters between colors where appropriate. Because of the small scale, we opted to output our halftones at 55 lpi (lines per inch) at 61 degrees to minimize moire on the inkjet and RIP.
Quick fix
While the color department was pulling down the RFU (ready for use) primary colors we would use, the screen department prepared our screens. Since we were going on blue and wanted a clean opaque print, our first down white screen would go on 156 tpi (thread per inch), stretched to 30 N/cm perpendicular and parallel on work hardened retensionable frames. The subsequent colors and highlight white would go on 196s and 230s at the same tension. After a quick setup on press using our pre-registration system, we were ready to run. To keep the ink deposits low and minimize any smearing, the squeegees were 75/95/75 triple ply duel durometer.
The 2,500 turquoise blue shirts printed very well for the event. Finally we would print the staff and volunteer shirts. When we opened the boxes, the shirts were navy. Apparently there was a switch, of which we had not been made aware. This was a bit unexpected and, of course, our seps were built for the turquoise. The black areas had no contrast on the navy. No problem, though—back to the Illustrator file! We turned our background navy, reconfigured our white printers, did a little creative blocking-out on press and were good to go. Sometimes you gotta adjust on the fly.
---

About the Author
Industry consultant Lon Winters is president of Print This, Inc. and Graphic Elephants, LLC. During more than twenty years in screen printing, he has won more than 40 international industry awards. Those include SGIA Golden Image Awards, Printwear Awards, Impressions Awards, and FESPA Honors. He is an honorary Golden Image judge; has published numerous articles and monthly columns; and leads seminars and workshops for a wide array of industry professionals.
Since the day he began his career by reclaiming screens, Lon has been involved in virtually every aspect of screen printing and embroidery. After managing operations large and small, Lon launched businesses dedicated to training, and consulting.
Print This
conducts popular seminars and workshops around the world for manufacturers, vendors, and garment decorators.
Graphic Elephants
is a screen print and embroidery design and development studio specializing in new techniques for clients with high-end work and short lead times.
Located in Elizabeth, Colorado, Lon can be reached by phone at 303-910-0477 and by email at
lon@graphicelephants.com
. His website is
www.GraphicElephants.com.
---