As you may, or may not know, we recently spent a week with the first Printwear Shop Makeover winner in Plymouth, Mich. We spent five days with our new friends Nancy, Rose and Gary at Heritage Logo Works. While streamlining the process and dialing in some new techniques, we also worked up a project interesting enough to make it into our Software to Substrate monthly column.
In order to get a handle on the entire process, it is important to practice as hard as we play on game day. So, while we ran actual jobs during the week, we would also lay in several practice images. For this project, our plan was to create something that we could use throughout the process where we were adding new software, screen making parameters and printing techniques. We wanted to work with a photo on black garments in a gray scale with a couple twists. We would need a subject matter and reference. As you might expect, when we use imagery about which the customer is passionate, the knowledge retention is usually very high.
Meet SGT Sara Davis and SPC Jessika Williams. Davis is Heritage co-owner Nancy Davis' daughter. She joined the Army National Guard three years ago and is going to college to be an occupational therapist. She joined the Army National Guard to help with school tuition and because she loves adventure.
Davis and Williams signed up and went to boot camp together. They are both very competitive and scored high in every area. As a parent, Nancy is very proud of Sara's accomplishments. But because of their high scores, both Davis and Williams have become military police and gunners. This was the inspiration for our project.
We chose to print an image of the two of them standing in a Hummer in Afghanistan, where they had been on a mission. They both volunteered to go to Afghanistan with the Taylor unit 1776 MP CO. While in Afghanistan, Davis was promoted to a Sergeant. She was asked to join the 1777 MP unit in Taylor, and has accepted the position. What makes this even more interesting is that she was one of the screen printers at Heritage before she enlisted.
Operation gray scale
We began creating this personal project by opening a color photo into Photoshop. It was simply an emailed jpeg image in fairly low resolution form, which was okay since it was just an exercise and we were changing it up anyway.
For the project, we would run a gray scale or duotone of the photo, so we would need to turn the full-color photo into a black and white. With the image open in Photoshop, we chose Image then Adjustments and Hue/Saturation from the top menu. Adjusting the saturation slider all the way to the left, at 100 percent, and bingo—the color was gone but the tonal values remain. There was the gray-scale image.
We saved the image as a .psd document on the desktop, then reopened the black and white image in raster separation software for a simulated-process separation. The software did its thing and we had eight plates ready for output. Of course, black and white duo tone does not require any info on the colored plates, so we deleted all the unnecessary colors, leaving only the first-down white printer, a gray and a highlight white. We also built a black to reintroduce the detail that would need to go back over the background treatment.
For the background, just to make it interesting, we output the gray as large as possible through the inkjet-to-film printer. We could go almost 17" wide by about 19" tall. Setting our halftone size in the RIP to a big 20 lpi (lines per inch) would result in a really chunky halftone background image. The other three plates were output at only 8" wide at 50 lpi, all at a standard 22.5-degree angle so we could rebuild the black-and-white photo over the background gray.
The ink had so little pigment and the mesh and thin stencil contributed to a thin ink deposit, which resulted in an ultra-soft dark gray treatment in the background. It almost looked like a ghost image of the photo.
The low-res image was opened in Photoshop, where it would be turned into a gray scale/duotone image by adjusting the Hue/Saturation. (Images courtesy GraphicElephants.com)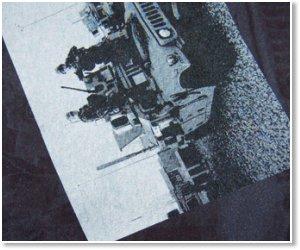 Production scope
The oversized gray film was exposed on a new, larger static framed screen with 305 mesh stretched to 20 N/cm. The balance of the plates went on 230s all at 20 to 25 Newtons. To help control the whole process, Heritage now insists that all the new static aluminum screens come in the door no lower than 20 N/cm tension on the mesh. The stencils were all built using a good dual cure emulsion and a new coating method at two-over-three, ending on the squeegee side and dried substrate-side down. The inks were pretty straight forward.
The gray background ink would need to be super soft and very thin to print through the 305. We thinned down some standard white with curable reducer about 90 percent. At that point, the ink had so little pigment and the mesh and thin stencil contributed to a thin ink deposit, which resulted in an ultra-soft dark gray treatment in the background. It almost looked like a ghost image of the photo.
We would then print the three-color duo-tone right on top of the gray background, all wet-on-wet. The print order was an under-base white, then black and finally the highlight white. The white inks had to be thinned about 10 percent to flow through the high screen mesh.
Viola! Nancy loved the prints. Heritage Logo Works learned a pretty simple and very effective technique that showcased the upgrades to their process. Mission accomplished. And, to Davis and Williams, and all the U.S. military, thank you for what you do, from all of us in the decorated-apparel industry.
---

About the Author
Industry consultant Lon Winters is president of Print This, Inc. and Graphic Elephants, LLC. During more than twenty years in screen printing, he has won more than 40 international industry awards. Those include SGIA Golden Image Awards, Printwear Awards, Impressions Awards, and FESPA Honors. He is an honorary Golden Image judge; has published numerous articles and monthly columns; and leads seminars and workshops for a wide array of industry professionals.
Since the day he began his career by reclaiming screens, Lon has been involved in virtually every aspect of screen printing and embroidery. After managing operations large and small, Lon launched businesses dedicated to training, and consulting.
Print This
conducts popular seminars and workshops around the world for manufacturers, vendors, and garment decorators.
Graphic Elephants
is a screen print and embroidery design and development studio specializing in new techniques for clients with high-end work and short lead times.
Located in Elizabeth, Colorado, Lon can be reached by phone at 303-910-0477 and by email at
lon@graphicelephants.com
. His website is
www.GraphicElephants.com.
---