Have you ever considered where we'd be without smart phones, tablets, personal computers or the Internet? In this digital age, we often take the technology that changes our lives and our businesses for granted. But what does "digital" mean to us as screen printers?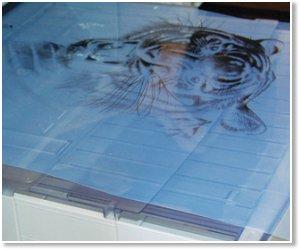 Digital print technology is making an impact on the imprinted apparel industry. Digital technologies first made their entry into screen printing via the computer in the areas of art and business management. They quickly replaced process cameras and hand-cut and rub-on films, ultimately changing the way we built our film positives.
Today, we have software and plugins that allow users to create their own graphics, manipulate templates, and do color separations almost automatically. That's not where it stops. Digital evolution affects us everywhere. Beyond film output devices and RIPs that have evolved tremendously over the years, computer-to-screen systems (CTS), sometimes called direct-to-screen systems (DTS), are the future and the present.
Benefits
The digital means of creating imagery directly on the screen streamlines workflow and improves output. As average order sizes have dropped, it is more important than ever to work as efficiently and productively as possible. CTS systems cut down production time, eliminate numerous steps and increase overall quality.
CTS replaces many of the steps in the traditional screen-making process. Film positives are eliminated as the CTS images directly onto a stencil-coated screen. Exposure times are reduced, no vacuum or glass is needed, and multiple screens can be exposed at a time. Pinholes and other emulsion errors are eliminated, and registration is digitally precise from screen to screen, every time. It's inexpensive to store digital files and reorder screens that match the originals identically. Computer-to-screen imaging systems allow screen printers to produce screens at increased speed, while reducing costs and increasing quality.
Besides all of these quantifiable benefits, CTS systems also improve the final print quality. Image detail is far superior. Most CTS systems can print up to 85 lpi (lines per inch) and produce smoother tonal ranges.
CTS is in direct contact with the emulsion during exposure, which means less undercutting, better exposure, and finer detail resolution. Stencils are more durable, and they exhibit wider tonal ranges that make halftones and detail easier to print.
Finally, consider that the accuracy of the image placement via the registration systems on the screen contributes to much shorter setup times on press. From screen to screen, the registration is nearly perfect with CTS. The highest quality inkjet printer pales in comparison to the superior technology and quality of CTS.

Screen print professionals are discovering and realizing these benefits, not just in terms of speed but also in reduced labor and consumables costs. Many are seriously considering this technology as a true solution for their prepress operations.
Many steps within the typical prepress process stay the same with CTS, while others change significantly. Computer-to-screen prints the image that would normally be output on a film positive directly on the surface of a coated screen.
From there, the screen is exposed to UV light, just as it would be in the traditional stencil-making process, except the glass and vacuum blankets are not necessary. The contact is therefore direct, which eliminates undercutting and pinholes that are often present in the traditional method. This also means that, since there is no film to diffuse light during the exposure process, we can achieve fine lines and halftones in the 1 to 2 percent tonal range with proper mesh selection.
Process of Elimination
Conventional CTS systems use RIP software to output the graphics onto a screen, which are printed with UV-blocking wax or ink. The print head places heated inkjet wax onto the screen, which dries on contact. Water-based inkjet systems have historically used Epson heads, but a few are now utilizing Ricoh head technology using a water-based ink that has special UV blockers added to assist in exposure. Another method is the thermal ribbon, which utilizes a heat transfer process that eliminates liquid ink or wax, though it seems this technology may be waning a bit.
Now, let's talk about film, which is certainly the most quantifiable consumable one can measure when considering CTS. It sounds straightforward, but, if we think about the process, multiple people spend countless hours handling film. Aside from printing or locating film positives, we tape films onto carrier sheets and then onto the screen, load them on the exposure unit, draw down the vacuum, expose, remove film, file the film, and finally, develop the screen. With CTS, you load the screen, pick the file, print, expose and develop. It's a simplified workflow process. CTS takes film out of the equation. As the acronym applies, you go directly from computer to screen.
Besides elimination of the film on new orders, integrating a CTS system eliminates the need for film storage. What might have taken up a good amount of physical space to archive films can now be done on a hard drive. Gaining back real estate is a big deal. Also, there's no need for cleaning or repairing scratched or damaged films or carrier sheets that cause pinholes and exposure issues. The film cost savings certainly help pay for a CTS system over time. At about $1 or more per sheet for film, the savings quickly add up.
Eco-consciously, the savings are significant, as well. With CTS technology, the positive is created with a water soluble substance. Because digital systems do not require the use of polyester film, this means the waste is eliminated. Some printers can generate thousands of yards of non-recyclable film on an annual basis, and all of that film goes into the trash.
While we're freeing up space by eliminating film, the next link in the chain of the screen-making process is the exposure. Since we don't have the film to deal with any more, there is no need for the glass or vacuum blanket to make sure we have good contact between film and screen. And, since a vacuum hold down frame and blanket are no longer needed, it's now possible to expose several screens at once. Computer-to-screen systems can save electricity and the life of the lamp with a few simple adaptations to the process. Without the glass or film, exposures are cut to almost half.
Additionally, the CTS screen imaging method eliminates the need to use tape measures and T-squares in positioning the film on the screen. Most CTS systems include a built-in registration system or one can be added, meaning registration is handled at the art department level rather than on press. Setups on press go much faster because the CTS holds very tight registration and positions the image in exactly the same place every time. Even multiple color separations are imaged onto separate screens in relationship to each other, saving valuable setup time when registering the screens on the press.

ROI
Besides film, the biggest measurable benefit to using a CTS system is the labor cost savings. The speed in which a separation can be imaged directly on screen decreases setup and downtime, in turn increasing productivity. The efficiencies are undeniable.
CTS systems flat out change the workflow. Because the systems eliminate multiple steps and square footage, the CTS process saves time and money compared to the traditional methods of screen making. Ultimately, implementing a CTS system streamlines the entire screen printing process and optimizes workflow.
And that brings us to return on investment (ROI). Prices for CTS machines range from the thirties to hundreds of thousands of dollars, with most practical applications in the $50,000 to $70,000 range. While prices aren't expected to drop all that much, consider that the equipment allows users to see immediate returns. The bottom line is that it reduces costs. The consumables for CTS systems are very low-cost and it drastically reduces traditional consumable costs. It is easy to do the math just on film and compute the ROI on that alone.
But how many screens does it take to justify the cost? Shops running two automatics or more is pretty easy math, but any startup with only one may make sense as well. Multiple manual shops should be taking note, too.
Ultimately, the numbers to consider are based on film costs and labor. A printer has to look at cost of manufacturing to calculate return on investment. In many cases, businesses are getting the ROI in only a few months.
Integration
Integrating a CTS system can be challenging. Most people are resistant to change, even for the better. CTS dramatically alters a significant part of the prepress production process. But really, a CTS system is just a printer to be integrated into the workflow.
To integrate a CTS system, we must convert from analog film-based workflow to a digital workflow. Without film, traditional proofing or review of film no longer exists. Prepress accuracy from the beginning is even more critical.
It takes real-world testing to dial in the settings of a CTS system in each environment. Halftone, stencil and mesh combinations must be tested and printed to achieve optimal results. Once dialed in, however, they don't change. The voodoo we use to massage each exposure and development can be avoided. Screens can be properly exposed and developed with high pressure. A standard operating procedure (SOP) can be set up so that anyone can achieve the same result.
Conclusion
Although CTS systems have been on the market for decades, there has been a recent surge in more acceptance in the technology. CTS systems are being embraced by screen printing operations throughout the world. A combination of labor savings, decreased consumables, increased speed, ecological benefits, and overall technology improvements are contributing to an industry working feverishly toward better efficiencies.
CTS makes the screen-making process more productive and more profitable. Printers who buy into CTS can expect more screens per day, lower costs per screen, better quality images and higher profits. Improved productivity means more product out the door in the same amount of time, at a lower cost. That goes right to the bottom line. And that's what we are all talking about.
---

About the Author
Industry consultant Lon Winters is president of Print This, Inc. and Graphic Elephants, LLC. During more than twenty years in screen printing, he has won more than 40 international industry awards. Those include SGIA Golden Image Awards, Printwear Awards, Impressions Awards, and FESPA Honors. He is an honorary Golden Image judge; has published numerous articles and monthly columns; and leads seminars and workshops for a wide array of industry professionals.
Since the day he began his career by reclaiming screens, Lon has been involved in virtually every aspect of screen printing and embroidery. After managing operations large and small, Lon launched businesses dedicated to training, and consulting.
Print This
conducts popular seminars and workshops around the world for manufacturers, vendors, and garment decorators.
Graphic Elephants
is a screen print and embroidery design and development studio specializing in new techniques for clients with high-end work and short lead times.
Located in Elizabeth, Colorado, Lon can be reached by phone at 303-910-0477 and by email at
lon@graphicelephants.com
. His website is
www.GraphicElephants.com.
---