History
---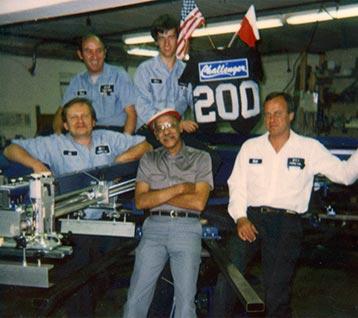 Like Bill Hewlett and Dave Packard of Hewlett-Packard (HP) and Steve Jobs and Steve Wozniak of Apple before him, Rich Hoffman began M&R in a garage.

M&R started out in 1985 with three employees. They were providing maintenance and repair for screen printers who were dissatisfied with the service provided by the manufacturers of their screen printing equipment. Just one year later, M&R began manufacturing manual screen printing presses.

In the late 1980's, M&R built Challenger, its first automatic screen printing press, and Challenger quickly came to dominate the market. Graphic screen printing presses followed in 1992. Eventually, M&R went on to become the world's largest manufacturer of screen printing machines, a position it holds to this day.

M&R's dominant position in the industry enabled it to acquire competitors Elexon and Precision in 1995. In 1999, M&R acquired Amscomatic, a world-leader in post-press screen printing equipment, and NuArc, the world's foremost maker of screen printing and lithographic prepress imaging equipment.